All-Electric FORD MACH-E
2021
AutoBazar.US already accepts orders for the supply of a new all-electric SUV directly from the USA to any country in the world! Date of receipt of the model - the end of 2020.
Fill out this form and we will send you a preliminary calculation of delivery. It will take into account all expenses at the delivery point of your choice, including transportation and customs. Attention! In the country field, please indicate the country and the desired city.
Price from
MSRP for the base vehicle. Does not include dealer fees and shipping charges. Optional equipment not included.
Prepayment:
10%
*A deposit of 10% is included in the main contract for the purchase of a car
Delivery time:
*Delivery time may vary by destination port.
economy:
*This model is not presented in the main export markets of AutoBazar.Us. When ordering directly from the USA, the buyer saves up to 20% of the cost of a car.
THE FUTURE OF EXHILARATION
eAWD - FULL CAPABILITY
Available eAWD (electric all-wheel drive) delivers exceptional performance and handling. Front and rear motors distribute power independently to each axle, which can provide impressive acceleration and help you take on snowy roads.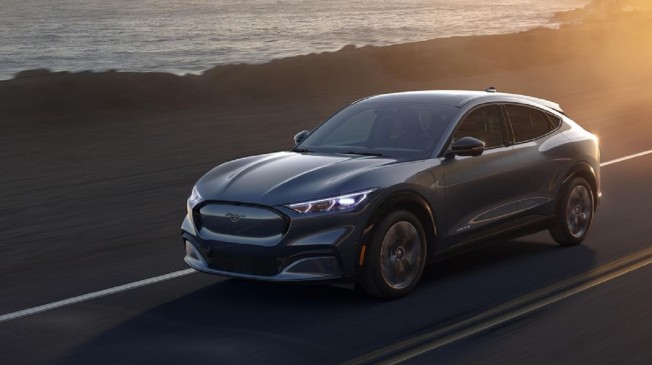 SEAMLESSLY CONNECTED TECH
Your Mustang Mach-E will match your mood. You can select your Drive Experience to fit the moment—and the interior sound, lighting, and even the responsiveness will adjust to your style – whether it's Unbridled, Engage or, Whisper.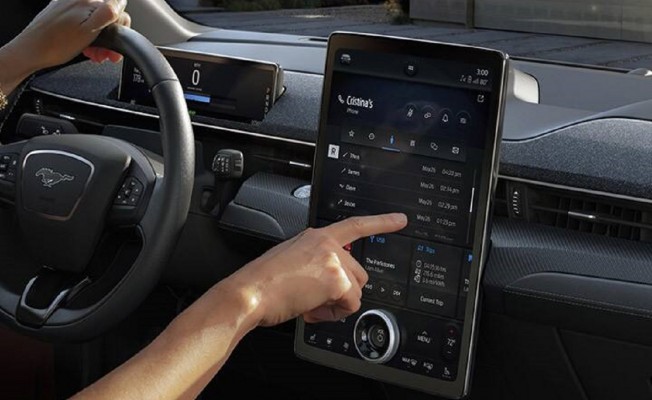 PURE MUSTANG ENERGY
Mustang Mach-E is available with standard and advanced versions of lithium-ion batteries with rear or all-wheel drive, powered by permanent magnet motors. Equipped with a long-range battery and rear-wheel drive, the Mach-E has a maximum travel range of 483 km. In all-wheel drive configurations with extended batteries, the Mach-E delivers 332 horsepower. and a torque of 565 Nm with acceleration to a moan in 5 seconds. The fastest GT Performance Edition with 459 hp and a torque of 830 Nm shoots up to a hundred in less than 3.5 seconds, which is equivalent to a Porsche 911 GTS sports car.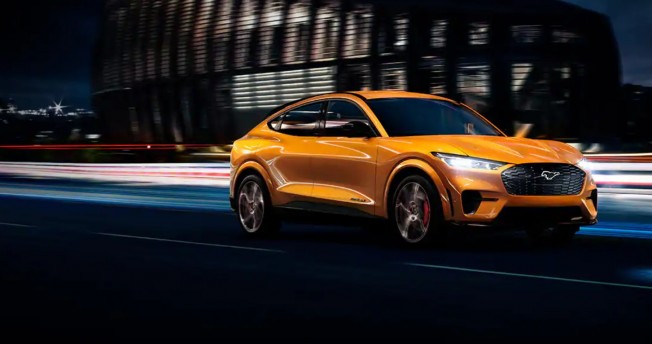 The most powerful
The most powerful model in the line - the Mach-E GT Performance delivers 459 horsepower and a torque of 830 Nm, which enables it to overcome the speed of 100 km per hour in less than 3.5 seconds. Key aspects of GT Performance: an expanded 98.8 kilowatt-hour battery, a maximum travel distance of 402 km, MAGNERIDE shock absorbers, two permanent magnet electric motors, all-wheel drive, a unique carbon-fiber radiator grill, and 20-inch forged aluminum wheels.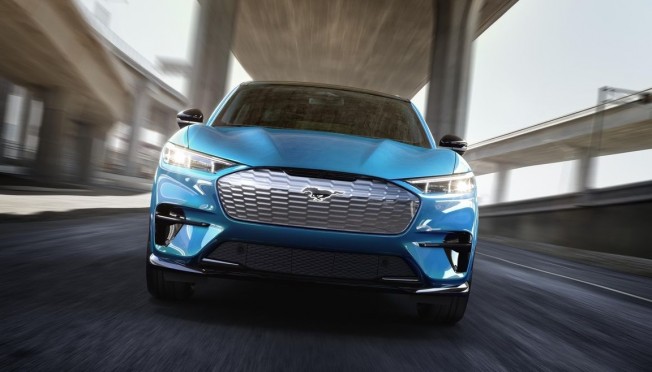 BATTERY OPTIONS
Ford Mustang Mach-E comes with two options for lithium-ion batteries: standard and advanced. The standard charge version uses a 75.7 kilowatt-hour battery, transferring power to the rear engine, while the advanced charge option uses a 98.8 kilowatt-hour battery, sending power to both motors on the front and rear axles. The Mustang Mach-E with an extended battery and rear-wheel drive is designed for a maximum travel range of up to 483 km.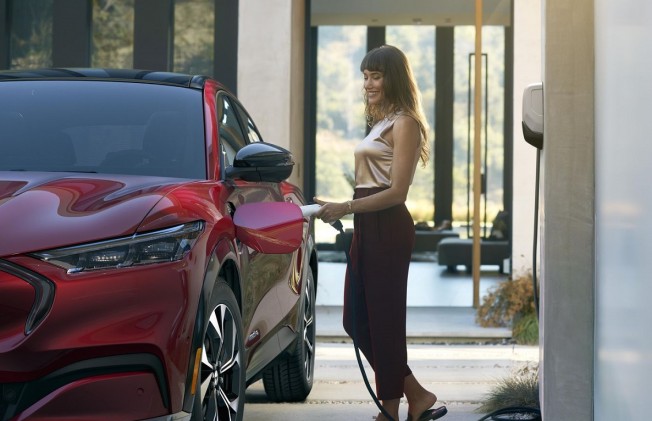 INTERIOR CONVINIENCE
In addition to the 140 liter external front trunk, the rear trunk offers 820 liters of space. With the rear seats down, the Mach-E boasts 1,690 liters of luggage. Bang & Olufsen premium speakers are located all over the front and above the air conditioning openings. The folding armrest serves as a place to store a purse or bags. The panoramic roof has a special glass coating with infrared protection, which helps the cabin to stay cool in the summer and warm in the winter, and the layer between the windows protects against ultraviolet rays.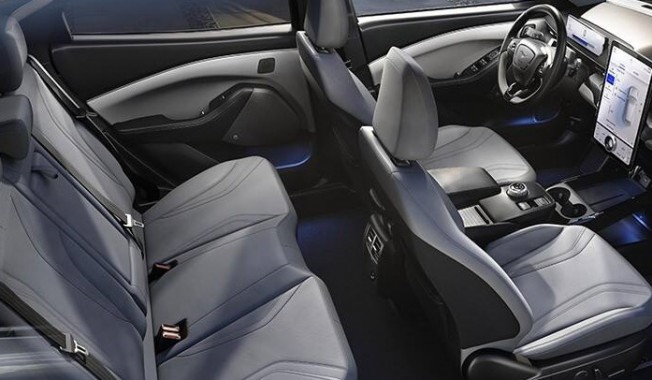 THE FAST WAY TO CHARGE AT HOME
Enjoy the convenience of a simple and fast charging experience at home with the Ford Connected Charge Station. To maximize your charge at home, Ford electric vehicle customers can purchase the Ford Connected Charge Station with up to 48 amps. Its user-friendly set up includes a 20-foot lightweight cord, ergonomically designed handle and a dedicated coupler dock that lets you conveniently store your cable and coupler near your vehicle's charge port. Plus, with a max output of 48 Amps (11.5kW), a weatherproof design for indoor or outdoor installation and adjustable power levels that enable compatibility with your home electrical system, The Ford Connected Charge Station is not only fast; it's flexible.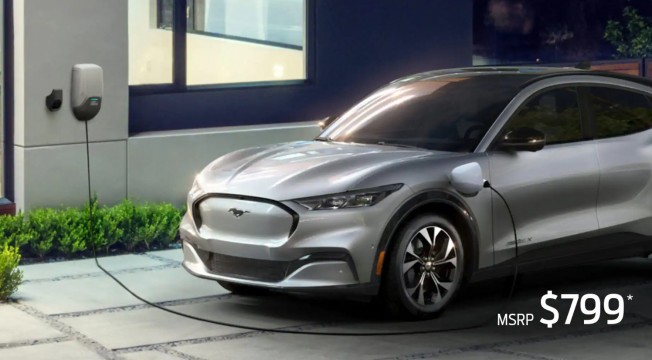 CALL BACK REQUEST
Send us a request, we will contact you ASAP.
Address
6521 Davis Industrial Pkwy, Solon, Ohio, 44139, USA
Phone
+1 440 212 5612
+7 958 111 4882
Online contacts
You can contact the Sales Department of the company in any way convenient for you:
Work time
from 9:00 to 21:00 (New York time) from 16:00 to 04:00 (Moscow time) * Closed: SUNDAY For emergency questions, you can call to call 7 days a week from 9:00 to 24:00 (New York time)
Attention!
The time difference between Russia (Moscow) and the USA (New York and Cleveland) is -7 hours. For example, when in Moscow it's 7:00 in the morning, in Cleveland - MIDNIGHT The time difference between Belarus and Ukraine (Minsk and Kiev) and the USA (New York and Cleveland) is -7 hours.