AutoBazar.US already accepts pre-orders for the delivery of the long-awaited SUV directly from the USA to any country in the world! Pre-order is open from July 20, 2020.
Fill out this form and we will send you a preliminary calculation of delivery. It will take into account all expenses at the delivery point of your choice, including transportation and customs. Attention! In the country field, please indicate the country and the desired city.
Price from
MSRP for the base vehicle. Does not include dealer fees and shipping charges. Optional equipment not included.
Prepayment:
1%
*To place a pre-order, a deposit of $ 500 is required. The deposit is fully refundable. After the start of production, the size of the main deposit is 10% of the value of the car minus the amount of the deposit in the pre-order.
Delivery time:
*Delivery time may vary by destination port.
economy:
*This model is not presented in the main export markets of AutoBazar.Us. When ordering directly from the USA, the buyer saves up to 20% of the cost of a car.
The all-new Bronco is back to into the wilderness
THE BRONCO FAMILY
Ford is introducing a new outdoor brand with its all-4x4 family of Bronco two-door, first-ever Bronco four-door and smaller Bronco Sport models – all engineered with Built Wild™ Extreme Durability Testing, Capability and Innovative Design principles for segment-leading levels of off-road performance and dependability. There's a whole world out there just waiting to be discovered. With its unquestioned toughness and durability, the all-new Bronco was built to carry outdoor enthusiasts to wherever the wilderness calls.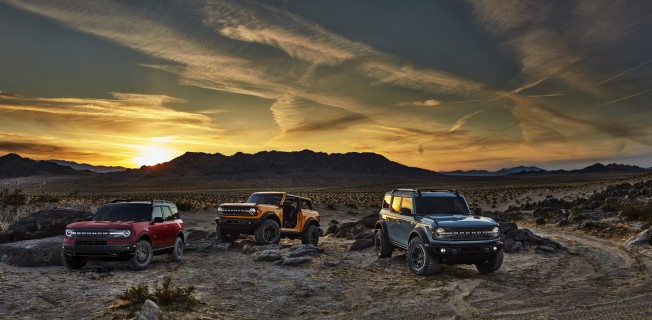 Built Wild™
Just like the first-generation Bronco, nicknamed G.O.A.T., the mission of the all-new 2021 Bronco is to deliver maximum 4x4 go-anywhere, anytime capability and confidence. Bronco incorporates off-road mapping and drive technologies to give novice adventurers as much fun as hard-core off-road experts, while its Built Wild durability makes for lasting performance in the harshest of conditions for generations to come.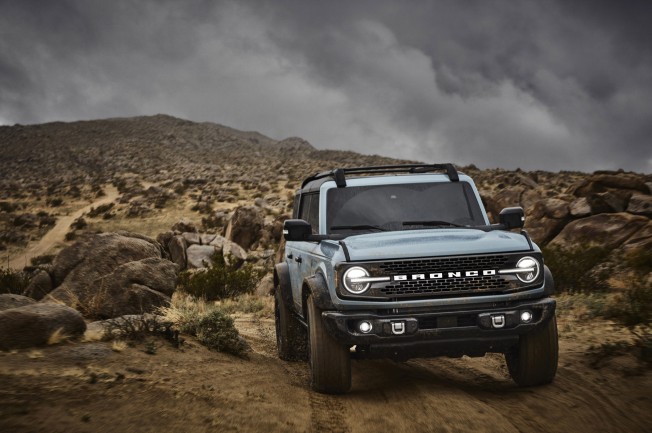 Tech for Off-Road Adventures
Further setting Bronco ahead of the off-road competition is an available segment-exclusive 12-inch SYNC® 4 system with over-the-air updates and seamless integration to the FordPass Performance app with off-road navigation – a Bronco class-exclusive feature that allows owners to easily plan, navigate and share their off-road adventure. The SYNC system also displays the available 360-degree camera system with class-exclusive off-road views to provide additional visibility in technical pursuits such as rock crawling.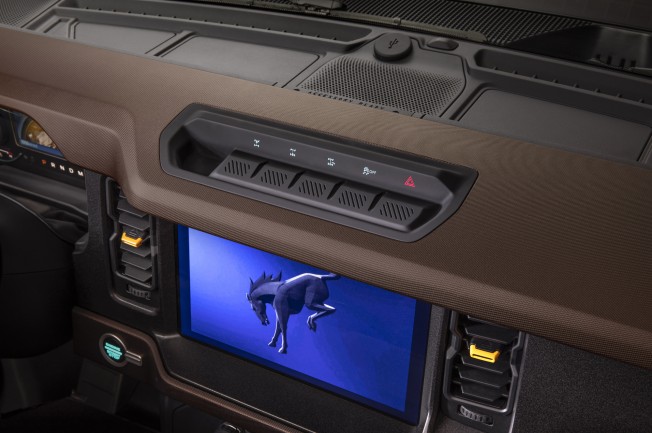 High-Tech Interior Designed for the Outdoors
Inside, all Bronco models are purpose-built and ready for action. The instrument panel is inspired by the first-generation model, with gauges and controls clearly visible and intuitive. Colors and materials are inspired by natural palettes and outdoor gear. With off-road functionality paramount, materials are tough and rugged.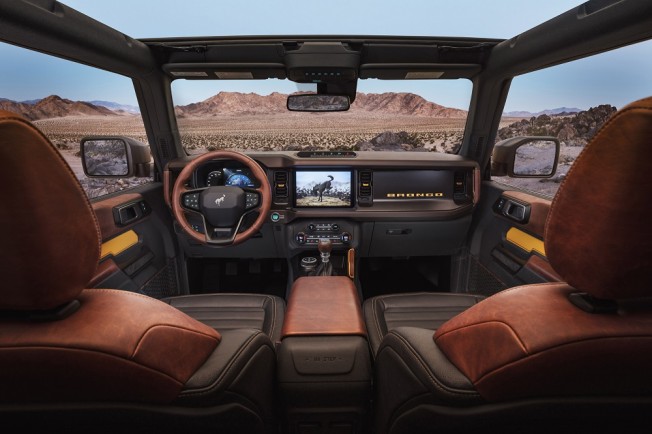 Ready to head effortlessly into the wild
Both Bronco two- and four-door models make the open-air experience quick, easy and fun. Two-door models come with a standard three-section roof system – left and right front sections and a rear section – molded-in color and an available premium painted modular top with four sections that adds a removable panel over the rear seats and cargo area. Four-door models have four removable roof sections – left and right front panels, a full-width center panel and a rear section. Roof panels on all models can be removed by one person by unlocking the latches from the interior. First-row panels stow away onboard on two-door models.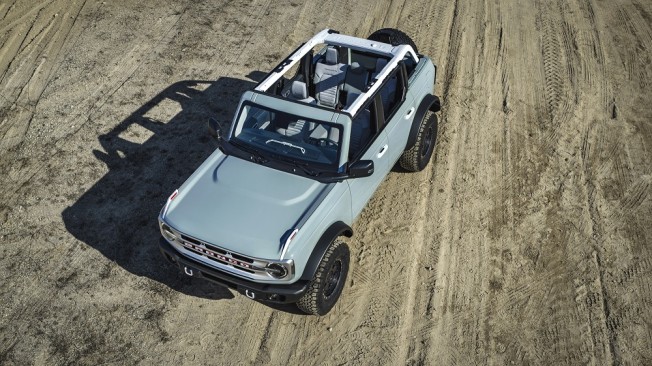 Various engine options
The basic version of the engine for the Bronco Sport model is the 1.5 EcoBoost petrol turbo engine (183 hp, 258 Nm). An alternative is the 2.0 EcoBoost turbo four (248 hp, 373 N • m). Both motors are mated only with an eight-speed "automatic". The drive is full by default. The older brother Ford Bronco is represented by two engines: the base - a petrol turbo four 2.3 EcoBoost (274 hp, 420 N • m) and the optional 2.7 EcoBoost biturbo six (314 hp, 542 N • m). The 2.3 engine is equipped with a Getrag seven-speed "mechanics". Moreover, the forward gears in it are numbered from the first to the sixth, and before the first there is another one, indicated not by a number, but by the word Crawler ("crawling"), and it has a gear ratio of 6.588: 1 (for comparison, the first has 4.283: 1 ) Option for engine 2.3 - ten-band "automatic". For motor 2.7 "automatic" is the default.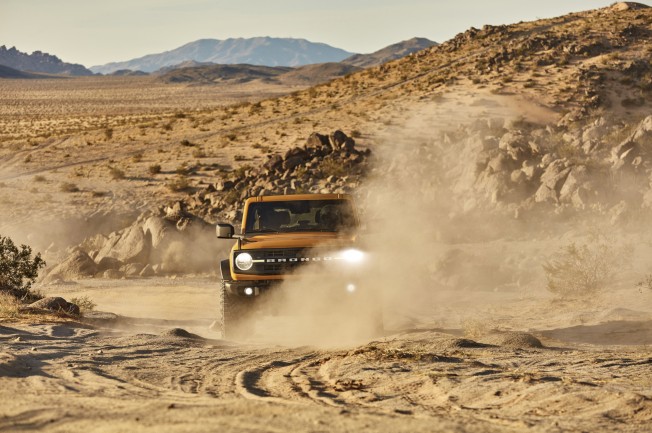 Equipment series redefine customization
An all-new experiential-based equipment series provides unique flexibility to align capability with the adventure interests of each customer. Seven unique Bronco series are offered, with matched color and trim combinations. When combined with four content packages, numerous available options, 11 color choices and more than 200 dealer-installable accessories, personalizing an all-new Bronco SUV has never been easier. Series range from a base Bronco, a no-frills SUV for those who want to customize their own, to Big Bend™, Black Diamond™ and Outer Banks™ with a variety of options and colors, topping out with Wildtrak™ and Badlands™ for more extreme off-road adventuring.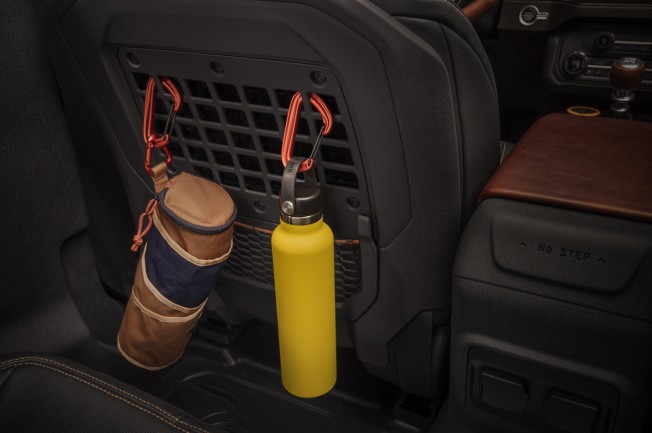 CALL BACK REQUEST
Send us a request, we will contact you ASAP.
Address
6521 Davis Industrial Pkwy, Solon, Ohio, 44139, USA
Phone
+1 440 212 5612
+7 958 111 4882
Online contacts
You can contact the Sales Department of the company in any way convenient for you:
Work time
from 9:00 to 21:00 (New York time) from 16:00 to 04:00 (Moscow time) * Closed: SUNDAY For emergency questions, you can call to call 7 days a week from 9:00 to 24:00 (New York time)
Attention!
The time difference between Russia (Moscow) and the USA (New York and Cleveland) is -7 hours. For example, when in Moscow it's 7:00 in the morning, in Cleveland - MIDNIGHT The time difference between Belarus and Ukraine (Minsk and Kiev) and the USA (New York and Cleveland) is -7 hours.